how to get the most from your ielts online program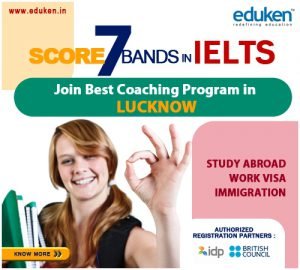 Why are you searching for Online coaching for IELTS in Lucknow?
Well, like you there are many who are restricted on this Covided planet to their homes or are not proving to be brave enough to go out and try things? In current scenario it is not wise to venture out and get exposed. Many of you might have wasted weeks or months to decide whether online learning is for you or not? 
Lockdown started in the last week of March 2020 and by now how many weeks are gone? Just make a quick mental calculation. You though about starting your IELTS preparation in April – May or June – July, where are you now?
Some of you have started by watching videos online, ordered some books from amazon, took few sample tests and also downloaded some free material (there is tons available) – so what is the progress like?
Those who have already prepared for the test and registered for March / April 2020, their test date was shifted to May, then June, then July, then August, then eternity. Are you still preparing with the same motivation?
There are many such pains which we have evaluated and used all our experience to bring you the most coveted IELTS Online Preparation in Lucknow.  At Eduken we ensure that your learning time is spent well and with a focused preparation you get the desired bands. In this post we have tried to explain some key benefits of IELTS online coaching by Eduken in Lucknow. Read ahead and decide whether its is the right program for you or not.
Whatever your reason is for going abroad – for getting a degree, taking up a job or planning for immigration one common exam that most of you has to go through is the IELTS. With its popularity and acceptance, it is one of the most widely accepted tests around the world. With the increasing difficulty level of the test, it is becoming hard to achieve 7+ band scores for many test takers. We believe, it is not that hard at all.
When it comes to preparation, the toughest part for you is to decide how to start your IELTS test preparation – we strongly believe that if you are comfortable watching videos on YouTube or movies on Netflix, doing an online IELTS test preparation would not be that difficult too. There are many other benefits which you can get from IELTS Online Test Preparation in Lucknow. 
1- Be Safe

This is the biggest benefit of IELTS Online Program in the current scenario. First and foremost, it is not advisable to get out and expose yourself. That highly contagious crazy virus is still out there and there is no possible cure in sight. So there is no need to take chances and get infected.
2- Give a Start
As they say, "Well Begin is Half Done" we say "Begin Small & Get Going." Starting something is certainly the most difficult step and it takes lot of courage to do it. At Eduken, we know it well and therefore give 2 full live sessions free, so that you start without any financial commitment.
3- Instructor Led Training (Online)
Faculty / Trainers play a major role in highlighting your weak areas and give direction to your preparation. As they have trained hundreds of students before, they know from their experience that what works and what does not. They have a reasonably good idea about topics and question types which are most important for each section. All our sessions are live sessions which are facilitated by an expert instructor. We only count the live hours that we spend with you. Everything else that we offer is additional. Isn't that a great benefit.
4- Customized Study
This is very important for any competitive exam preparation as no two students are alike and their requirements vary according to their knowledge and caliber. With a flexible curriculum and methodology students get tremendous benefits.
5- Flexible Timings
We understand that you also have other commitments, hence we offer you flexibility in our timings. You can choose either Weekday or Weekend Module. Even during the weekdays, there are various slots available during mornings, afternoon and evenings. 
6- Study Material
Extensively researched and up-to-date course material which is according to IELTS syllabus. From basic to advanced our study material is top-notch. We ensure that our students are fully prepared before they take IELTS exam.
7- Topic wise Assessments
From Monologues to Lectures in Listening section, Summary Completion to True / False /Not Given in Reading Section, Letter Writing to Report Writing and Personal Interview to Follow-up in Speaking we assess everything in our Online Program. That's an awesome benefit. Isn't it?
8- Online Testing
Eduken has a dedicated Advanced Testing Platform on which you can practice your reports, letters, essays, comprehensions and even take online tests. Complementary access to this platform is another great benefit.
9- Doubt Solving
No matter how hard you try, there will definitely be situations when you need to clear your doubts. Sometimes you don't know things at all, sometimes you guessed the right answer and at times you just need a better way to solve it. We keep dedicated doubt-solving sessions every week.
10- Mentor Support
In self-study sometimes you reach a level where you find yourself stuck with a very slow progress or even a decline in your performance. The experience and knowledge of your mentors play a vital role in taking you out of this situation.
11- Free Profile Assessment
Express your interest in any of our programs and we will give a Free Assessment to you. There is no compulsion to enroll afterwards. Share your details for Free Profile Assessment here.
12-Need a Little Extra Push
You need someone who can push the right buttons whenever you lose focus. At Eduken, you get this in abundance in both our Online Training Program and IELTS Classroom Program from your , trainers, counselors and mentors who give you that extra motivation and drive when you need it most.
I think these are some good reasons to enroll for an IELTS Online program. If you have other reasons and want to share them with us, then let us know on our  Facebook Page. A simple like on this page will encourage us to write more for you.