should you take admission in ielts classroom program
January 31, 2020

Posted by:

eduken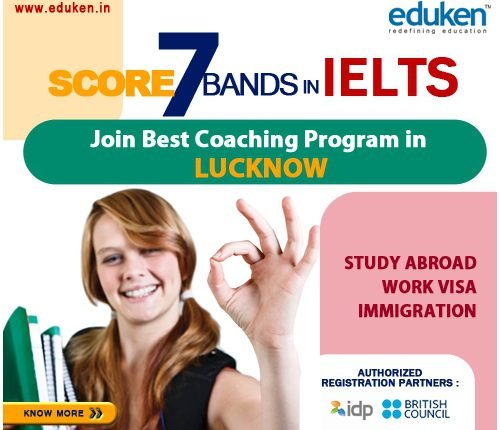 IELTS is becoming one of the preferred English proficiency tests for test takers in India. Those who want to go abroad for study purposes or planning for immigration are taking this test. With the increasing difficulty level of the test, it is becoming hard to achieve 7+ band scores. For achieving the desired band scores, some students are doing online preparation and others are relying on reference books and past test papers. Both are good ways for self-improvement. However, there are several benefits of joining a classroom coaching program for IELTS. Some of them are:
Structured Approach
Classroom coaching provides a structured approach for test preparation. There are many things which are important for enhancing your performance such as a fixed study schedule and regular monitoring of your assignments. You get such things in your classroom coaching.
Flexibility
This is very important for any competitive exam preparation as no two students are alike and their requirements vary according to their knowledge and caliber. With a flexible curriculum and methodology students get tremendous benefits.
Experienced Faculty / Trainers
Faculty / Trainers play a major role in highlighting your weak areas and give direction to your preparation. As they have trained hundreds of students before they know from their experience that what works and what does not. They have a reasonably good idea about topics and question types which are most important for each section. In self-study sometimes you reach a level where you find yourself stuck with a very slow progress or even a decline in your performance. The experience and knowledge of your trainers play a vital role in taking you out of this situation.
Doubt Solving / Personal Feedback
There is no alternative to classroom coaching when it comes to doubt solving or giving personalized attention to each student. Whether it is evaluation of your essays or correction on your spoken ideas, classroom coaching has a clear advantage. This is something you obviously miss in self-study or online preparation.
Need a Little Extra Push
You need someone who can push the right buttons whenever you lose focus. You get this in abundance in a classroom coaching program from your peers, trainers, counselors and mentors who give you that extra motivation and drive when you need it most. (At Eduken, we ensure this.)
I think these are some good reasons to enroll for an IELTS classroom program. If you have other reasons and want to share them with us, then let us know on our Facebook Page. A simple like on this page will encourage us to write more for you.
Happy preparation in advance,
Vipul Tandon
Twitter: @VipultheHope | @edukenin
Disclaimer: The views expressed in this post are personal of the author. While we have made efforts to ensure the accuracy of our content (consisting of articles and information), neither this blog nor the author shall be held responsible for any losses suffered by people accessing or using the content.